Data supporting the "Bring MEC to Hamilton" project
Please be sure to visit the MEC Hamilton home page.
The following table shows the biggest 15 Canadian cities in descending order, plus a few smaller cities which would also be candidates for providing MEC Hamilton shoppers. Cities in Bold face would likely supply MEC shoppers to Hamilton. Cities in italics do not currently have a MEC. You can see that Halifax and Victoria are both smaller than Hamilton but can maintain a MEC. In fact, their combined populations are barely more than Hamilton's population alone! The combined population of major centres surrounding Hamilton is over two million.
City Rank (2006)
Population (2006)
City
Approximate Distance to nearest existing MEC
Approximate distance to MEC Hamilton
Within an hour of Hamilton?
Population serviced by MEC Hamilton
1
5,113,149
Toronto
400km (Ottawa)
70km
Yes
2
3,635,571
Montreal Central
200km (Ottawa)
No
3
2,116,581
Vancouver
1.6km (N. Vancouver)
No
3
2,116,581
North Vancouver
1.6km (Vancouver)
No
4
1,130,761
Ottawa
200km (Montreal)
No
5
1,079,310
Calgary
300km (Edmonton)
No
6
1,034,945
Edmonton
300km (Calgary)
No
7
715,515
Quebec
260km (Montreal)
No
8
694,668
Winnipeg
1310km (Edmonton)
No
9
692,911
Hamilton
70km (Toronto)
0km
Yes
692,911
10
457,720
London
190km (Toronto)
125km
No
457,720
11
451,235
Kitchener
105km (Toronto)
68km
Yes
451,235
12
390,317
St. Catharines
110km (Toronto)
59km
Yes
390,317
13
372,858
Halifax
1075km (Quebec)
No
14
330,594
Oshawa
66.2km (Toronto)
132km
No
15
330,088
Victoria
110km + ferry (Vancouver)
No
16
323,342
Windsor
363km (Toronto)
300km
No
28
127,009
Guelph
90km (Toronto)
53km
Yes
127,009
30
124,607
Brantford
101km (Toronto)
38km
Yes
124,607
TOTAL
2,243,799
<![if supportMisalignedColumns]> <![endif]>
The following map shows the surrounding regions that would be serviced by MEC Hamilton. Since MEC is a "destination store" similar to IKEA, it is likely that opening a store in Hamilton would not only attract existing members from the surrounding area, but could boost membership numbers for these regions. The shaded areas represent a 25km radius and 50km radius from downtown.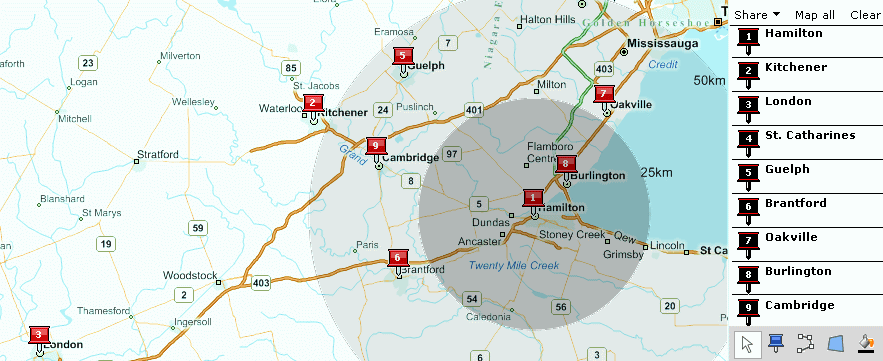 Be sure to visit the home page for ideas on how you can help.